Do you love to sing? Read on to learn more about our choir.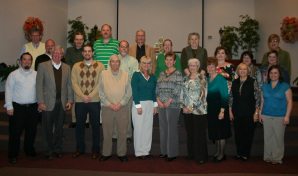 Adult Sanctuary Choir:
Open to all singers who have a love for choral music. This choir is the primary leader of music in the morning worship service. Special music presentations are performed at Christmas and Easter, as well as Patriotic Musicals in July and September. Our goal is to glorify God with praise through our music and create a worshipful atmosphere in our congregation.

Children's Choir is open to all children ages 3 yrs old - 6th grade:
Choir members sing hymns of our faith and also experience beginning harmonic singing with the use of canons and rounds. We sing in worship service several times a year.
---
Rehearsal Times:

Adult Choir: Sunday evenings 7 - 8 pm
Wednesday evenings 6:15 - 7 pm

Children's Choir: Sunday evenings 5 - 5:45 pm
---
---
If you would like more information about our adult choir, contact our Choir Director:
Ivy Greene Phone Number: 276-935-2966
for the children's choir contact:
Katie Stark Phone Number: 276-597-7600


A GREAT PLACE TO BELONG!
A GREAT COMMISSION PEOPLE!